Cogeferm increases the number of cycles/hour by 50%
10/12/2018
Cogeferm, a French business specializing in carpentry and locksmith materials, has chosen to work with Mecalux yet again to expand its miniload system. This extra AS/RS storage aisle lets the company store more than 7,980 boxes. Likewise, by setting up this third AS/RS for boxes, and a new pick aisle, the business increases its cycles/hour by 50%.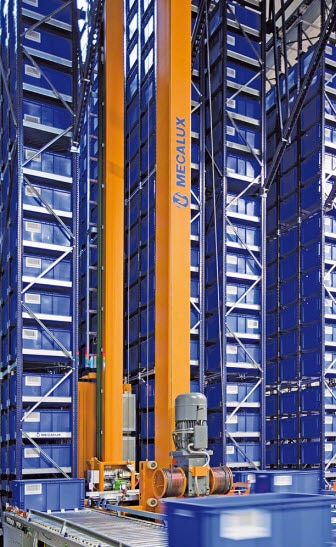 The automated mini-load system is allocated mainly to picking small and low demand products, as well as a portion of the consumer products. The whole picking-related process starts in this area and is headed up by the Easy WMS.
Moreover, the 32,292 ft2 logistics center of Cogeferm, located near Paris, also features carton and pallet flow racks, pick shelves and cantilever racking for very long products. Everything was supplied and installed by Mecalux.
Etienne Lheritier - Logistics Manager at Cogeferm
"We chose a Interlake Mecalux solution because of its high dependability and storage purposing, as well as the asset the whole technical team was during the consultancy process. With this solution, our center's productivity and customer satisfaction have soared."
20,000 SKUs stored and counting
Founded in 1987, Cogeferm is an expert distributor of carpentry and locksmithing materials. The company has a team of 150 employees and 17 points-of-sale spread throughout France, where it sells the +20,000 SKUs it carries. Its quick delivery service and efficiency make Cogeferm a force to be reckoned with in this French sector.