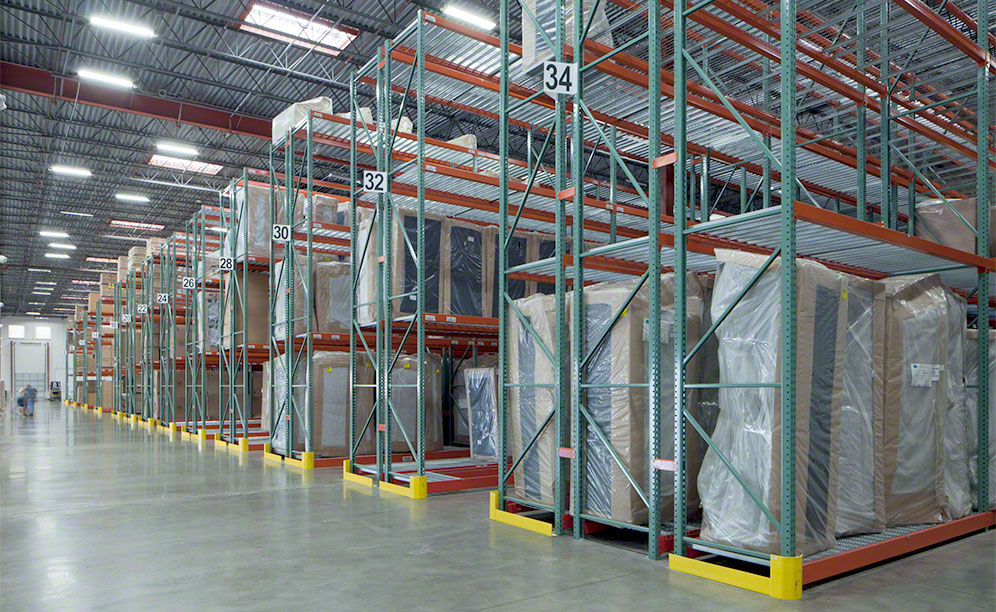 Narrow aisle selective rack boosts warehouse productivity for Rana Furniture
The new selective racking system with narrow aisles for Rana Furniture in Miami, has increased warehouse productivity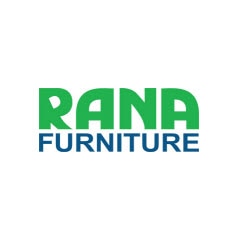 Rana Furniture has been in business since 2003 serving the Miami, Hialeah Gardens, Pembroke Pines and surrounding communities in Florida. The company started out selling only Brazilian furniture to other small furniture stores. Eventually, the owners decided to open their very first Rana Furniture store in a little corner of a shopping mall in Florida. Today, Rana Furniture is expanding to seven stores that carry some of the most recognized names in furniture and mattresses, such as Ashley Furniture, Sanberg Furniture, Hughes Furniture, Coaster Furniture and Symbol Mattresses.
Technical Specifications

Rana Furniture warehouse: Selective pallet racks
Number of bays:
638
Frame specs:
22' x 42" 075F
Beam specs:
144" x 4" (40E)
Number of beam levels:
4
Height of rack:
22'
Number of aisles:
14
Aisle width:
(8) at 6' (1) at 8' (5) at 19' 8"
Pallet positions:
7,656
Pallet type:
GMA pallets and boxes of different sizes

Download PDF
The needs of Rana Furniture
As the company continues to expand, Rana Furniture needed to move into a new warehouse and replace its old 16' tall racking system with a new one that was 22' tall. Typically, furniture stores turn to cantilever racks to store product, but due to the fireproofing requirements at Rana Furniture's new warehouse, the company was looking to install selective pallet rack instead. The furniture company also needed to be able to hand-load products in very narrow aisles.
The solution
Rana Furniture consulted pallet rack distributor Atlantic Rack and warehouse storage solutions provider Interlake Mecalux to come up with several options for its storage needs. The team decided to install selective pallet racks with 7,656 pallet positions and 22' high by 42" deep frames. The system also features 638 bays with four levels and 144" beams. Selective pallet racking is versatile and adaptable to any type of load, weight and volume, such as furniture. It is also suitable when storing the several thousand different SKUs that Rana Furniture has in its warehouse.
One important caveat for Rana Furniture was the need to increase warehouse productivity. One way of doing that was to incorporate some very narrow aisles into the design of the system. Eight of the system's aisles are 6' wide and one is 8' wide. Workers use wire guided forklifts to navigate the narrow aisles.
The benefit of this type of layout is its efficiency because Rana Furniture can now hand-load and unload product with a third of the people that it was using at its previous warehouses, and with less product damage, according to Hector Rueda, operations manager for Rana Furniture. "It's minimizing damage to the product a lot and it's also boosting productivity," Rueda said of the new racking system provided by Atlantic Rack and Interlake Mecalux. "Before, workers used to be able to prepare one truck in maybe an entire day. Now, the same guy prepares three trucks." The system also has five aisles that are more than 19' wide, which allows workers to move faster with larger furniture on pallets and without having to move every piece manually.
Uninterrupted workflows
The plan for the future, however, is for workers to hand-load every piece of furniture, thereby eliminating the need for pallets and gas-powered forklifts and further reducing the risk of damage to the products. "Basically when a piece comes in, everything is hand-touched so workers can be delicate with every single piece of furniture that we have," Rueda said.
The Rana Furniture warehouse is the company's only distribution center. It always has a team of workers that is physically unloading product from overseas containers and another team that is constantly moving product from the receiving area and putting it in the rack. When picking orders, workers may have to go to several locations in several aisles to retrieve the required furniture. Initially, there were concerns that this would affect the flow of goods and cause bottlenecks in the narrow aisles. "Right now we have four stock pickers in receiving and four stock pickers in shipping and we really haven't run into that problem," Rueda said.
The investment in the new Interlake Mecalux selective pallet rack system is also paying off. After moving into the new warehouse location, Rana Furniture was able to cut personnel expenses by 30 percent and still accommodate the opening of two new stores, according to Rueda. "I think our people now can become so efficient that they can probably handle the two extra stores without a problem," he said.
Advantages for Rana Furniture
Increased productivity: through the use of a more efficient layout with narrow aisles, workers are able to hand-load furniture into the selective rack quickly.
Less risk of damage to product: hand loading of furniture into the selective racking has enabled workers to handle goods more delicately and limit product damage.
Reduced costs: Rana Furniture saw a 30 percent reduction in expenses after installing selective racks with narrow aisles.
Rana Furniture warehouse: Selective pallet racks
Number of bays:
638
Frame specs:
22' x 42" 075F
Beam specs:
144" x 4" (40E)
Number of beam levels:
4
Height of rack:
22'
Number of aisles:
14
Aisle width:
(8) at 6' (1) at 8' (5) at 19' 8"
Pallet positions:
7,656
Pallet type:
GMA pallets and boxes of different sizes