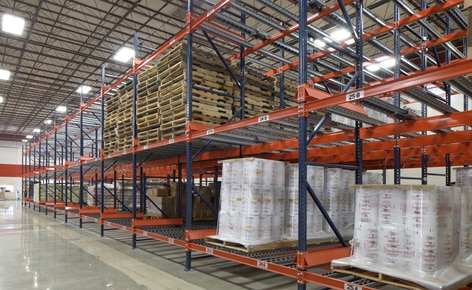 Micro Chips, Then Macro Chips: Interlake Mecalux Pallet Flow Racking Solution
El Milagro attempts a used system retrofitting only to discover they were on the wrong side of racks

In 1950, Mr. Lopez ditched his railway job and his tortilla sales business to open a restaurant in a Chicago neighborhood central to the railroad personnel. He called it El Milagro, or "the Miracle". And while Lopez perhaps viewed his business' existence as miraculous, their continued success today certainly isn't. The opportunity to expand to Texas came when local tortilleria, El Lago, put its business up for sale.
Technical Specifications

Pallet Flow Racking for El Milagro's warehouse
Location:
Austin, Texas
Storage Capacity:
700 pallets
Pallet Type:
GMA
Lower Level Storage:
6 pallets deep, heavy-duty
Solution Type:
Pallet Flow Racking
No. of Flow Rails:
5
No. of Bays:
18

Download PDF
The newly acquired Milagro plant, located in Austin, was used primarily to manufacture tortillas, more or less picking up right where El Lago had left off. It didn't take long for El Milagro to find success in Austin and in 2009, the business branched out, purchasing a modest manufacturing plant in the nearby city of San Marcos. The facility was renovated and fortified with a corn silo allowing El Milagro to produce pre-cut corn tortilla chips, flour tortillas and other similar products. The result was a sudden influx of new business and, of course, new challenges.
Customer's Needs
Using the contacts El Milagro had spent years building in Chicago, the Lopez group found and purchased an inexpensive, pre-owned pallet flow system they believed would fit in their San Marcos facility. The warehouse was retrofitted with this used pallet flow rack that could handle the company's GMA (Grocery Manufacturers of America) pallet specifications.
Soon after the racking materials were shipped to Texas and installed, El Milagro turned to local distributor ESS. It was immediately apparent that the system wasn't running smoothly within the plant, but El Milagro was hesitant to spend additional money for a new system to replace the pre-owned system it had just purchased.
By the time the ESS Group visited the site to evaluate the efficiency of the used pallet flow, the booming tortilla company had already realized major adjustments were necessary. It was a grab-bag kind of a deal, a mish-mash system that didn't match up correctly. They had no flow lanes and only two flow rails, neither of which had brakes. A pallet flow system has to be in a straight line, but if you looked down them, they looked as if it were inclining up a hill and then back down again.
El Milagro's main concern was the sheer volume of product necessary for storage. Adding to these issues were some missing rollers and a few makeshift beam connectors. The most pressing safety problem at the outset was the lack of brakes on much of the pallet flow system. With nearly 200 pallets of chips circulating each day, it is vital to have a solid braking system so the high volume of pallets don't go careening off the rack.
ESS wasn't fully convinced the racking sitting in the San Marcos warehouse was usable, much less salvageable. Finally, the customer was shown how a proper pallet flow system from Interlake Mecalux should function.
Interlake Mecalux's Proposed Solution
Immediately, ESS identified the importance of determining the flow rail's efficiency, so the distributor brought in flow rail manufacturer Mallard to determine if El Milagro's necessary pallet specifications would work with the system installed in the space. ESS and Mallard ordered a sample flow lane, but were unable to get it operating.
For El Milagro to have replaced the dysfunctional flow rails with new ones would have cost them about 70 percent of what it would cost to replace the whole system. They agreed that the best thing to do was reset and install new rack components engineered to hold the required unit loads.
ESS, working closely with both Mallard conveyors and El Milagro, revised the design concept. Generally, every specification was taken into account, leaving the only one small oversight about the clearance of the facility's ceiling. Quickly altering the area needed for additional height clearance and taking into account the manufacturer's combination storage of both raw and finished materials, ESS designed an efficient plan and called on the Interlake Mecalux pallet flow system to replace the unstable, hodgepodge initially installed.
The used system was sending up red flags every step of the way. So, the dependability of Interlake Mecalux racking was appealing, especially in regards to wheel quality because they were guaranteed to work. The depth of flow lanes, aisle width, load and unload placement and direction of flow were all priorities when designing the new system.
The installation began in June 2011 and completed two weeks later. El Milagro first bought a system that they had to fit into their operations. Now they have the ability to create something brand new. They've got a piece of clay and they're molding it in the shape they want. ESS chose Interlake Mecalux pallet flow for the same reason it pushed El Milagro to ditch the retrofitting and install a new system: both would allow the customer the most highly efficient, flexible system, something the distributor felt just couldn't be accomplished with any other solution.
Advantages for the Customer
Enhanced Flow: five new flow rails and new wheels streamline the flow of raw materials to the tortilla production area. Processed and packaged goods move smoothly to shipping to be speedily sent to distributors.
Quality & Safety: the solid pallet flow braking system ensures the safety of personnel and the conservation of palletized goods and supplies moving through the warehouse system.
Heavy-duty Storage: over three dozen 2,000 lb oil containers are stored on lower rack levels. The system can withstand the demands of the unit loads without risking a malfunction.
Pallet Flow Racking for El Milagro's warehouse
Location:
Austin, Texas
Storage Capacity:
700 pallets
Pallet Type:
GMA
Lower Level Storage:
6 pallets deep, heavy-duty
Solution Type:
Pallet Flow Racking
No. of Flow Rails:
5
No. of Bays:
18