3PL to Yuma: Mecalux Push-Back Racking Vertical Solution
Desert Depot sees alternatives and growth in Push-Back Pallet Racking
There are roughly 5 million acres of U.S. land and 2 million employees devoted to some facet of farming. Desert Depot, a subsidiary of the Gowan Company, is a key player in the agricultural chemicals market. The provider of custodial warehousing for clients' products, Desert Depot has been a third-party logistics enterprise in Arizona's foreign trade zone (FTZ) since 1996. Residence within a FTZ allows customers to store imported, raw, active goods and gradually import them in order to produce the finished product.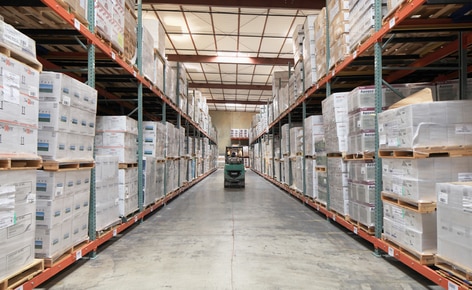 Customer's Needs
Desert Depot stores an array of products during its transformation from both active and inert ingredients, down to the packaging and mixing of them together. The company's storage needs were not common when thinking about the typical warehouse, given the drastic range in both the product container's size and shape.
Despite serving some of the largest players in the industry, Desert Depot's management still felt branches of the business could be trimmed. Desert Depot had a combined 215,500 ft² of facility, but a third of their space, a nearby 57,000 ft² warehouse they were leasing, was costly and inefficient. So, the company made it their objective to plan their way out of it.
When the current layout was analyzed they saw they could change, among other things, the facility's floor plan in order to increase overall storage density. They knew there were better ways of renovating the space than spending rent money on another warehouse.
So, they started looking upwards to the roof and realized there were a lot of upper cubic feet being wasted in the warehouse. They might have been full on the square foot, but what if they could literally go up in number of pallets… and store everything internally without affecting service levels?
The design needed to be ready to handle inevitable future growth and not simply that of their current inventory. With Desert Depot's pallet sizes being continuously in flux, flexibility was integral. The system needed to allow for both very narrow and very wide pallets to be stored. Narrow aisles weren't an option. They knew there were other approaches, but none of them were too enticing.

Mecalux's Proposed Solution
After a year of analyzing feasible solutions, Desert Depot awarded the overhaul of its 103,200 ft² space to its longtime material handling provider Naumann Hobbs. Having the Southwest's largest material handling provider in its corner, the distributor set about conducting an efficiency study for pallet locations in Desert Depot's main facility and its off-site storage facility and then modeled their findings into CAD drawings.
Shortly thereafter, Naumann Hobbs determined that the Interlake Mecalux Push-Back system would be the ideal solution to eliminate the unwanted off-site location. The key to the renovation was to avoid changing the company's current product flow or material handling equipment, which was made up of standard 5,000 lb cushion forklifts.
Push-Back offered high-density, multiple product storage solutions that optimized all of the available space. Because Desert Depot didn't want to change their forklifts, the telescoping carriages used in Push-Back utilize gravity to move rear-placed pallets to the front, so drive-in rack or telescoping forklifts are unnecessary. The design allows all the stored products to be accessed from a single aisle in a first-in/last-out order. Also, since Interlake Mecalux offers beams and frames capable of supporting two-, three-, four- and five-deep Push-Back rack, they can be implemented in a variety of applications, despite given space.
Interlake Mecalux partner, Hobbs installed 16-foot, three-tiered, three- and four-deep Push-Back systems, and a five-deep system that was modified for a sixth point, allowing for more than 7,600 pallet storage positions. The height of Desert Depot's space also allowed for a second set of pallets to be stacked onto the highest tier. Mecalux industrial rollers were installed on another Push-Back system, and all the racks were designed to accommodate a variety of GMA pallets with weights ranging from 1,000 to 2,000 lb. This process continued until the installation was completed nine weeks later.
During the construction, Desert Depot maintained normal daily business operations by systematically clearing out old rack and installing the Interlake Mecalux beams and uprights along with the push- back mechanism, re-filling it with product.
The recent completion of Desert Depot's 103,000 ft² facility in Yuma, AZ, with Interlake Mecalux Push-Back racks illustrates why they have survived and flourished for over six decades. When the opportunity arose to help change the day-to- day functionality and storage capacity of Desert Depot's warehouses, IKLM partner Naumann Hobbs stepped up despite concerns from their partner company that their off-site warehouse couldn't be eliminated.
The new storage system accommodates well over 16,000 pallets, nearly double previous capacity. When compared to the yellow safety lines marking where the old rack sat, the new Push-Back system nearly mirrors the previous configuration, giving the desired extra storage density without consuming vital floor space and fully maximizing previously untapped vertical cubic footage. However, they opted to not fully rack the entire warehouse, leaving an area open for incoming active ingredients. Since they arrive in drums, stackability is an option without having crushing or safety concerns.
"Push-Back racking is beautiful to work with," said a company spokesperson. Desert Depot saw an immediate return on investment from its rack installation, given that their storage capacity nearly doubled upon completion. "They are a top-notch organization." The two are currently discussing the addition of truck locks on all of the docking positions at Desert Depot.

Advantages for the Customer
Nearly two years after the installation was completed, Desert Depot has seen the true value of their renovation double. The company continues to be a logistics safe-haven for its clients.
Enhanced Storage Capacity: double the capacity obtained by maximizing vertical cubic footage not previously exploited.
Equipment Integration: the flexibility of the Push-Back system allowed all handling equipment to be re-used incorporating it into the solutions thereby reducing costs.
Cost Savings: the need to lease an entire 57,000 ft² warehouse nearby was eliminated through Push-Back, high-density solutions and space optimization.
Technical Specifications

Push-Back Racking for Desert Depot's Warehouse

| | |
| --- | --- |
| Location: | Yuma, Arizona, U.S. |
| Warehouse Size: | 103,000 ft² |
| Solution Type: | Push-Back, high-density, first-in/last-out |
| New Storage Capacity: | 16,000 pallets |
| Max. Pallet Weight: | 1,000 – 2,000 lb |
| Rack Configuration: | 16' high, three-tiered |
| Rack Depth: | 3, 4 and 5 deep system (modified for a sixth) |
| Handling Equipment: | 5,000 lb cushion forklifts |
Products used in this project
Technical Specifications
Push-Back Racking for Desert Depot's Warehouse

| | |
| --- | --- |
| Location: | Yuma, Arizona, U.S. |
| Warehouse Size: | 103,000 ft² |
| Solution Type: | Push-Back, high-density, first-in/last-out |
| New Storage Capacity: | 16,000 pallets |
| Max. Pallet Weight: | 1,000 – 2,000 lb |
| Rack Configuration: | 16' high, three-tiered |
| Rack Depth: | 3, 4 and 5 deep system (modified for a sixth) |
| Handling Equipment: | 5,000 lb cushion forklifts |